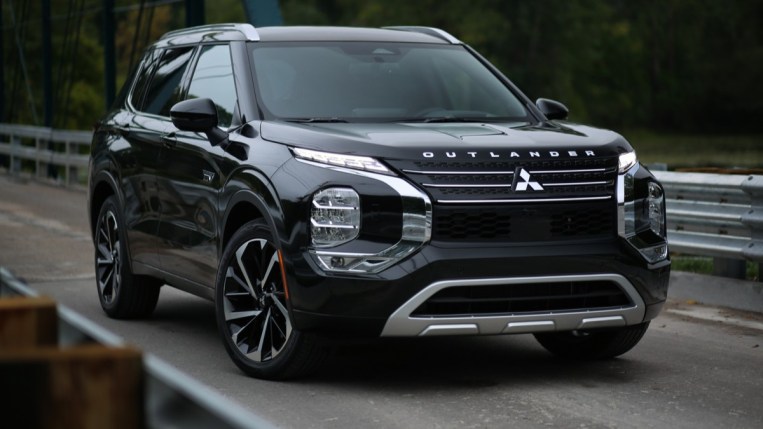 The 2023 Mitsubishi Outlander PHEV starts at $39,845, plus $1,345 in destination and handling fees
It offers 38 miles of all-electric range, 248 horsepower and standard four-wheel drive
The Mitsubishi Outlander plug-in hybrid (PHEV) is one of the best cars that no one knows about. As a compact SUV, it takes up little space. But it can accommodate up to seven people. It looks surprisingly sophisticated since a recent redesign. And we now know that it offers one of the longest all-electric ranges of any plug-in hybrid.
Electric car virtues, petrol flexibility
Plug-in hybrids, in case you're not aware of new car technology, are a step between gas-powered and electric cars. They can travel a certain distance on electricity alone before starting their gasoline engines. That gives them as much range as any other gas-powered car, without having to worry about unpredictable public charging stations. Plug-in hybrids still make their owners pay for cheaper electricity rather than more expensive gas for most of their driving.
The 2023 Outlander PHEV has a range of 61 kilometers on electric power before the gas engine starts. Of the compact SUV plug-in hybrids, only the Toyota RAV4 Prime surpasses that.
It is also one of the few PHEVs that can be charged with DC fast chargers. That could allow owners to quickly top up while on the go. It takes 38 minutes to reach 80% – slower than most electric cars. But that still allows you to add mileage for the journey home while you do your shopping.
Mitsubishi kept the range and other details secret for a long time. Almost a year ago, they revealed photos of the Outlander PHEV. But the Japanese company gave the technical details this week.
They include new power: the Outlander PHEV's 2.4-litre 4-cylinder engine and two electric motors combine to produce 248 horsepower. Every Outlander PHEV has four-wheel drive.
Price Mitsubishi Outlander PHEV 2023
The 2023 Mitsubishi Outlander PHEV starts at $39,845, plus $1,345 for destination and handling. It will arrive at dealers in November.