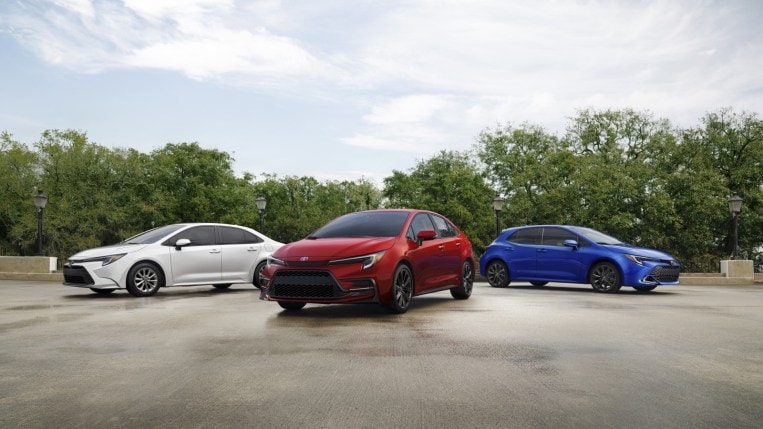 The Toyota Corolla has always been a great value. It is rarely an inspiring car (although there is now). But it's the best-selling nameplate in history because of its reliability, rock-solid resale value and comfort for the money.
Nothing will change for model year 2023. The value proposition is only refined.
The Corolla 2023 should hit dealers in the fall. The price is not yet known, but we expect it to rise from its starting point of $20,425 in 2022. Corollas also require a $1,025 delivery fee.
Styling tweaks
It's no time for a redesign – this Corolla has only been around for three years – but Toyota has given its compact car a small visual update. The Corolla comes in sedan and hatchback versions and they are more similar this year. They now share the same headlight design.
Hatchbacks get a reshaped rear bumper. So does the sedan's best-selling LE trim level.
New hybrids, tighter steering for some
Speaking of the LE, it gets a power boost. The Corolla is available with a choice of two petrol engines: a 1.8-litre 4-cylinder producing 139 hp and a more powerful 2.0-litre 4-cylinder producing 169 hp. The popular LE got the smaller motor in 2022. It will get the bigger one for 2023, meaning only the base L carries the least powerful reel.
Toyota has also reworked the continuously variable transmission (CVT) of gasoline models to provide a simulated first gear for faster starts.
But the big changes come in the Corolla Hybrid range.
In 2022, the Corolla Hybrid only came in the LE trim level and only in front-wheel drive (FWD). But as Americans demand more fuel-efficient cars, Toyota will offer us a wider choice of hybrid models.
Four hybrid trim levels will be seen in 2023: LE FWD, LE all-wheel-drive (AWD), SE FWD, SE AWD and XLE.
SE models get a bit of sporty spirit. Toyota has dropped the sporty Apex model from the Corolla range (unnecessarily with the much more capable GR Corolla carrying the lineup's performance flag). But the tighter, more responsive steering rack hasn't gone away. It can now be found in the SE Hybrid trim levels.
XLE, meanwhile, gets the full list of near-luxury equipment.
Enhanced Safety, Entertainment
All Corollas receive Toyota's standard Safety Sense 3.0 Driver Assistance Package. It includes automatic emergency braking with pedestrian detection, lane warning, adaptive cruise control, traffic sign recognition and automatic high beam. Buyers can add parking assist and new adaptive headlights (recently allowed by federal law, their high beams don't dazzle oncoming traffic).
The standard 8-inch infotainment screen can now receive over-the-air updates. That means Toyota can improve the software on the fly, add new features or save drivers a trip to the dealership for recalls that can be addressed with software patches. Finally, the Corolla now gets Toyota's natural voice assistant. Allows drivers to adjust climate control, directions and other settings using voice commands. You wake it up by saying, "Hey, Toyota."