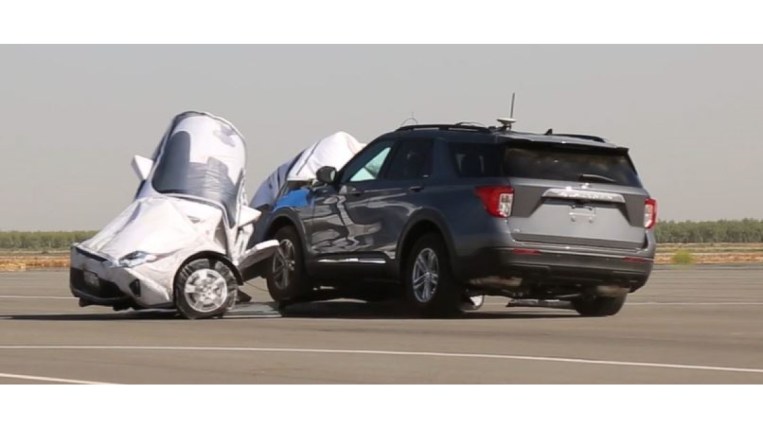 It's a common sense answer, but still a technical problem for the auto industry and a good reminder for drivers. According to AAA, automatic emergency braking systems (AEB) only prevent collisions at low speeds.
Automatic emergency braking is now common
The systems try to prevent or minimize collisions by braking a vehicle hard when they detect a person or object in front of it. They are not required by law, but they are standard or optional on almost every car sold in America. Nearly every automaker signed a pledge to include them on September 1, 2022, and they've largely kept their word.
But the systems don't work at every speed.
Related: How does automatic emergency braking work?
Limited testing so far
America has two crash testing agencies: one run by the federal government and another by a group of auto insurance companies.
The federal government's National Highway Traffic Safety Administration (NHTSA) does not test the systems in every car. It just ran a few preliminary tests to see how it might evaluate them. Those tests took place at 20 mph.
The Insurance Institute for Highway Safety (IIHS) has launched a more robust testing program. It tests the ability of AEB systems to stop a car from 40 mph to avoid hitting an object in the roadway.
Related: Safety Group – Pedestrian Detection Systems Not Working Properly at Night
AAA: Most crashes occur at higher speeds
However, AAA found those tests to be inadequate.
The agency's investigation found that "three types of accidents are responsible for 79 percent of injuries." They include rear-end collisions, 90-degree angle collisions, and collisions when a vehicle crosses the path of another car.
Of those accidents, AAA says, "60% occur on roads with speed limits of 30-45 mph."
So AAA tried to recreate them at faster speeds than the NHTSA or the IIHS tests.
They used four popular vehicles: a 2022 Chevy Equinox, a 2022 Ford Explorer, a 2022 Honda CR-V, and a 2022 Toyota RAV4.
Mixed results
The good news? The cars performed quite well in the rear-end crash tests. In all cases, the vehicles warned the driver of a potential collision and reduced the speed of the car to mitigate the impact.
They were not all equal.
Even at 40 mph, the RAV4 completely avoided a rear-end collision in four out of five tests. Oddly enough, it only reduced its speed by 7.9 mph on fifth. The Explorer reduced its speed by an average of 31.8 mph, resulting in minor damage each time.
At the other end of the scale, the Equinox reduced its speed by an average of 17.5 mph — enough to lessen the severity of the crash, but never avoid it.
The bad news? In collisions with T-bone and twisting curves, none of the test cars warned the driver or applied the brakes.
AAA concluded with separate recommendations for the people who design cars and those of us who drive them.
Automakers, the agency says, "should improve AEB systems to assist drivers in intersection-based crash scenarios" and should make the systems standard for every make and model.
Drivers, meanwhile, should not trust the car to avoid accidents. Instead, AAA says, we need to "recognize the limitations of an AEB system and stay involved when we're behind the wheel."