You have your caravan or motorhome, and all the equipment you need, so now there is only
one more thing to do – pick a place to go! Doing this will make you think about what you want from a campsite itself, but also from the surrounding area.
It's worth considering what facilities you want from your site as there is a wide choice – from 'wild camping', where you can park your caravan or motorhome (and very little else), to better equipped facilities where you can clean toilet and shower block, plus specific areas for washing dishes and laundry.
Once you've determined what kind of facilities you're looking for, it's important to look at the type of touring pitches on offer. Again, there's a sliding scale here; starting from simple grass pitches with no electricity connection, to luxury paved pitches that may have special features such as a water drain, chemical waste disposal or even a barbecue stand.
With thousands of campsites in the UK alone, it's easy enough to find one in the location that suits your holiday needs. Maybe you want something on the coast that's a short walk to the beach, or somewhere in the countryside with access to great walks? Wooded locations are great for mountain biking and other adventure activities, or you may prefer to stay on the edge of a bustling city.
Check out our list of the 20 best touring caravan sites in the UK…
Central England
Barn Farm Camping, Derbyshire
barnfarmcamping.com
Barn Farm is on the edge of the Peak District and about three miles from Matlock. It is well located for access to the attractions of this popular national park. Most pitches are for tents and trailer tents only, so it is advisable to book quickly to get one of the 13 electric paved pitches available. On site there is a launderette, shop and games room.
Chapel Fields Holiday Park, Lincolnshire
chapel-fields.co.uk
Chapel Fields is one of several caravan parks on the outskirts of Chapel St Leonards. There is a sandy beach less than a mile from the site exit, or if you prefer, Skegness is 15 minutes along the coast. There are four fishing lakes on site, plus a modern shower block with disabled access and a shop.
Forest of Dean Bracelands, Gloucestershire
campingintheforest.co.uk
This extensive Gloucestershire forest is an excellent hub for adventure sports such as mountain biking and kayaking. All this is within easy reach of Camping in the Forest's spacious and wooded Bracelands site. There are 520 pitches – a mix of grass and hardstanding. There is a shop, launderette and leisure battery charging point.
Fotheringhay, Northamptonshire
fotheringhaycastlefarm.co.uk
For a taste of wild camping in an easily accessible location, look no further than Fotheringhay. It's only 20 minutes' drive from the town of Peterborough, but you wouldn't know it, with a peaceful location overlooking the ruins of Fotheringhay Castle. However, there is no electricity connection and the only facilities are a portaloo and a crane. However, if you feel the need to return to civilization, the highly regarded Falcon Inn pub is just a short walk away.
Sherwood Pines, Nottinghamshire
campingintheforest.co.uk
Sherwood's 150-seat facility feels new and fresh and will not be completed until 2021. Located in Mansfield, this woodland park is the largest park in the East Midlands. Once part of the ancient Sherwood forest of the Robin Hood legend, it features multiple dedicated trails a few hundred yards from the camp exit. It is popular with mountain bikers. Dog owners are also well served, with an on-site wash just for puppies. Grass, paved and luxury hard-standing select pitches are available. Additional facilities include WiFi and a launderette.
West Runton Camping and Caravanning Club Site
01263 837544
You'll find this site in a fishing village on the Norfolk Coast Area of ​​Outstanding Natural Beauty, just off West Runton Beach, which is known for its expansive rock pools exposed at low tide. It is a fairly large campsite with 163 pitches. Most of these have electrical hookups and 34 are paved. Highlights of the facilities include a launderette, shop and children's playground.
Northern England
Bay Ness Farm, Yorkshire
baynessfarm.co.uk
Bay Ness Farm is open from mid-April to late September and offers stunning panoramic sea views of the North Yorkshire Moors coast. The charming seaside town of Robin Hood's Bay is just a 30 minute walk away and the tourist destination of Whitby is 10 minutes by car. There are simple ones for motorhomes and caravans
grass pitches with electricity connection. It is not possible to pay on arrival, so early booking is recommended.
Castlerigg Hall Caravan and Camping Park, Cumbria
castlerigg.co.uk
The Lake District has no shortage of campsites, but Castlerigg Hall stands out, thanks in part to the fantastic views over Derwentwater available from many of its pitches. A good number of hardstanding touring pitches are available, ranging from a basic set-up with no electricity to fully equipped 'superior' pitches. The market town of Keswick is nearby, and there is a shop, cafe and launderette on site.
Coast and Castles Camping, Northumberland
coastandcastles.com
Located in the Northumberland Coast natural beauty area, this site is ideal for anyone looking for back-to-basics camping. Facilities are limited to toilets, changing rooms and gas-fired showers as there is no electricity. There is a beach less than a mile away, and the
The ancient St Oswald's Way walking route is nearby. There are only 28 touring pitches available, so early booking is recommended.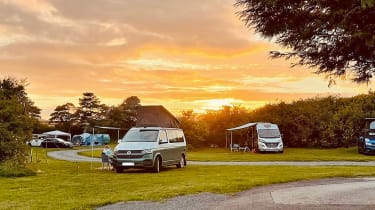 Southern England
Golden Cap Holiday Park, Dorset
wdlh.co.uk
For exploring the Jurassic Coast, the Golden Cap Holiday Park is a great option. The village of Seatown and the sandy beach are less than 150 yards away, whilst inland there is a vast expanse of National Trust land to explore. There are 69 pitches with electricity, 41 of which are on grass. A shop and launderette complement a children's play area and pitch & putt.
Brighton Caravan and Motorhome Club Campsite, Sussex
01273 626546
This campsite is less than a mile from the beach and 2 miles from Brighton. There are 152 for touring units and construction is underway for a further seven. There is a launderette, a RV garbage disposal and Wi-Fi for a fee.
Folkestone Camping and Caravanning Club Site, Kent
01303 255093
A cliff top location offers fantastic views, and there is a 2.4 mile coastal walk to access Folkestone harbour. The campsite only offers 40 pitches for motorhomes. Towed caravans are not allowed due to the tricky access road, but there are plenty of suitable alternatives nearby.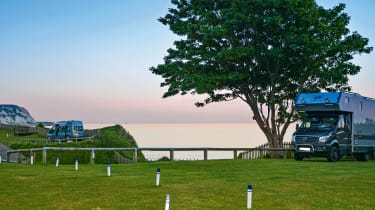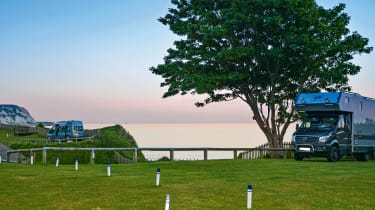 Heathfield Farm Camping, Isle of Wight
heathfieldcamping.co.uk
This 9 acre site near Freshwater on the west of the island has beautiful views of the Solent with 81 grass pitches, 67 with electricity. There is a large playing field, a launderette, WiFi and a communal BBQ area. There is plenty to do in the area, such as fishing, golf, horse riding and various water sports.
St Agnes Beacon Caravan Club Site, Cornwall
01872 552543
The St Agnes Heritage Coast is the setting for this gently sloping site and offers a great vantage point over part of Cornwall's rugged coastline. Enjoy hiking, surfing and beach days nearby. There are 88 grassy pitches, all with electricity.
Stowford Village
royalresorts.nl
Located on the North Devon coast, this large site has 300 touring pitches, 100 of which are hardstanding. Nearby is a swimming pool, mini golf course, a go-kart track and a petting zoo. There are several facilities blocks, with a disabled and family unit at reception.
Northern Ireland
Highview Holiday Park, Northern Ireland
highviewholidaypark.co.uk
This County Antrim park is close to both White Rocks Beach and the UNESCO-listed Giant's Causeway. This incredible feature is made up of 40,000 interlocking basalt columns, formed by a prehistoric volcanic fissure eruption.
The site has only 12 maintained hardstanding pitches, so it is advisable to book well in advance so as not to miss a thing. There is a small shop on site and nearby Portrush has plenty of dining options and several golf courses.
Scotland
Dalraddy Holiday Park, Cairngorms
campinginaviemore.co.uk
Set on a large family-owned estate north of the striking Cairngorms of the Scottish Highlands, Dalraddy has much to offer. There is an on-site cafe serving food made with ingredients sourced from the property, and various activities including clay pigeon shooting, quad biking and a 2-mile zip line. There are 20 hardstanding touring pitches with electric hook-ups.
Edinburgh Caravan Club site, Edinburgh
0131 312 6874
Located on the outskirts of the Scottish capital, this site has a handy minibus service that takes you into the city center for a day of sightseeing. If you prefer to stay closer to 'home' there are some lovely scenic walks along the vast estuary of the Firth of Forth. There are 146 touring pitches available, almost all of which are hardstanding. There is a shower block, a launderette and a golf course.
Wales
Bryn Gloch Caravan and Camping Park, Snowdonia
northwalescamping.co.uk
Located at the foot of Mount Snowdon on the edge of the Snowdonia National Park, Bryn Gloch offers stunning views and easy access to many outdoor activities. There are 114 for touring units, 48 ​​of which are all-weather 'super' pitches. There are an additional 112 seasonal pitches for long-term rental. On-site facilities are plentiful, and there's an accessible bathroom should you fancy a dip after a hard day's walking.
Camping Cwmdu, Powys
campingbreconbeacons.com
The Brecon Beacons are home to some of the UK's most stunning scenery, and this site is an ideal place to explore on your own. There are several walks from the Cwmdu itself, and further afield, the Black Mountains. The town of Crickhowell is five minutes away if you want to stop for some local produce. The site has 47 pitches with electricity, some of which are hardstanding.